About the coin
Minted by OakCoins, it is 2 inches in diameter and 4 mm thick. Both sides have a rim, similar to those found on the Seven Summits geocoins. They come in an acrylic coin box.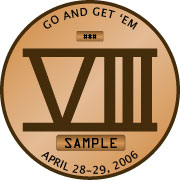 The front of the coin has large Roman numeral eight, the date of the event, a three-digit serial number and the tracking ID. The lettering and the areas for the serial and tracking numbers are raised. The backgound is a finely textured recessed area.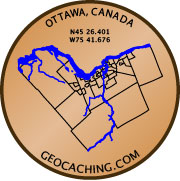 The back of the coin has a map of the City of Ottawa depicting neighbourhoods outlined in black. It also has the Ottawa and Rideau rivers in blue. The map itself is raised, as are the letters, while the background is a finely textured recessed area.